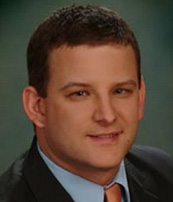 Dr. James Miller earned his Doctor of Chiropractic degree and a Bachelor's in Life Sciences from Logan College in St. Louis, MO. Before chiropractic school, he earned a Bachelor of Science degree in Biological Sciences from Ohio University in Athens, OH.
Dr. Miller is board certified by the National Board of Chiropractic Examiners and licensed by the North Carolina Board of Chiropractic Examiners. He is a member of the American Chiropractic Association and the North Carolina Chiropractic Association.
Dr. Miller's first experience with chiropractic care came after he suffered a neck injury playing high school football. After much frustration with pain medication, his local chiropractor had him back on the field after just a few adjustments. That experience is what shaped his professional future.
In 2006, Dr. Miller completed the Spine Research Institute of San Diego's course on Whiplash Injury & Brain Traumatology. In addition to a thorough understanding of auto collision injuries, he has experience with a wide range of musculoskeletal problems.
Dr. Miller and his staff will always take time to listen to you carefully and recommend an appropriate treatment plan.