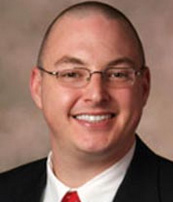 Dr. Joshua A. McDowell entered the chiropractic profession with eight years of concentrated undergraduate and graduate work. He holds three degrees: a Bachelor of Science degree in Biology from the University of Pittsburgh, a Bachelor of Science in Human Biology from Logan College of Chiropractic, and a Doctorate of Chiropractic from Logan College of Chiropractic. He has gone on to complete extensive post-graduate education on whiplash and related injury care through the Spine Research Institute of San Diego.
Dr. McDowell is a member of the North Carolina Chiropractic Association and the American Chiropractic Association. He is licensed by the North Carolina Board of Chiropractic Examiners and is board certified by the National Board of Chiropractic Examiners.
Dr. Joshua McDowell grew up in a family that supported and benefited from chiropractic care. He was drawn to his career by the understanding that chiropractic is a field of prevention and wellness, a natural way for the body to heal itself. Dr. McDowell is driven to help people feel better and enjoy their life to the fullest, without the limitations of pain.
Dr. McDowell moved his office to Fayetteville, NC in January of 2013 and looks forward to being an integral part of the community in Fayetteville, NC. Dr. McDowell and his staff will take the time to listen to your problems. Dr. McDowell and the staff at Fayetteville Accident & Injury are bilingual in English and Spanish. They will recommend a proper treatment plan if Chiropractic care is appropriate. If Dr. McDowell does not feel chiropractic treatment is appropriate for your condition, he will recommend a different type of doctor for your care. You can learn more about our Fayetteville chiropractor at the website for our Fayetteville office.
Online Reviews
Google
Facebook
Better Business Bureau
City Search